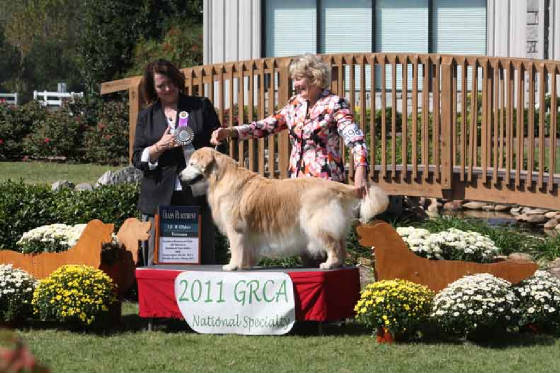 Prey, my foundation bitch getting a fourth place at the National Specialty in Conyers, GA. 12 years and older Veterans class.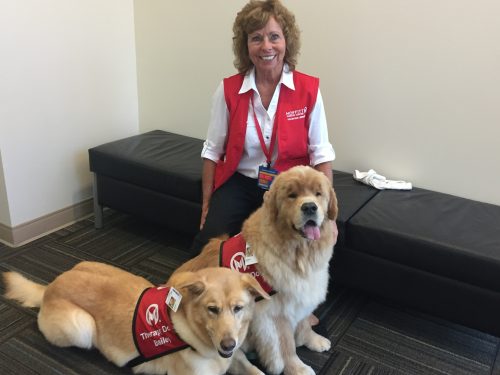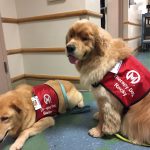 (ABOVE) This is Rocky. He was born with neurological issues. His Mom approached me when he was a puppy asking if I would trust him with his care. Needless to say Rocky is a Therapy dog and visits Moffit, Nursing homes and many, many children. They spread his story about never giving up. He brings joy and hope to many. We love you Rocky.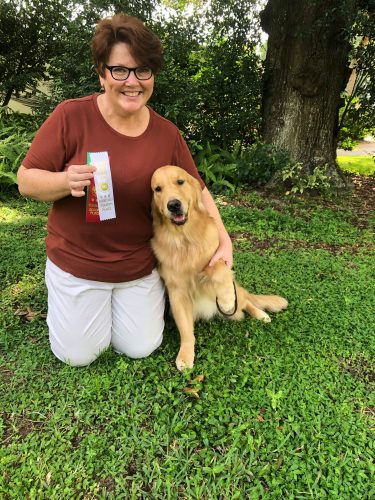 Kaylee finished her BN today!
                                                                                       She is a Seymour x Summer daughter.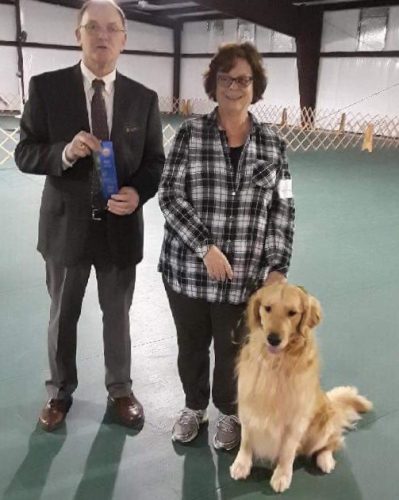 Snobird's Super Sonic Boom CD BN, RI, CGC
                                                                                                      Yankee x Party son.
'Boomer'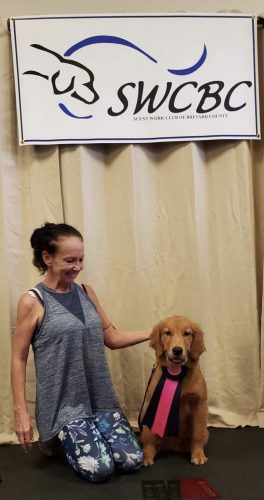 'Tigger' (Edward x Topaz)
At just over 6 months Tigger got her Scent novice title.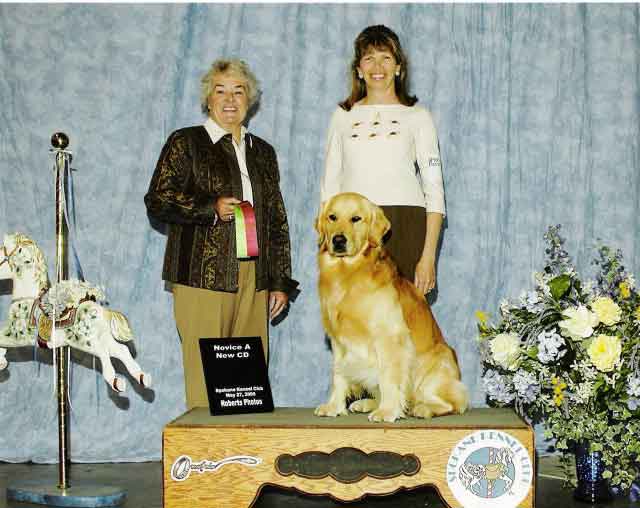 Judy with Jesse after completing his final leg towards his American CD (Companion dog) title.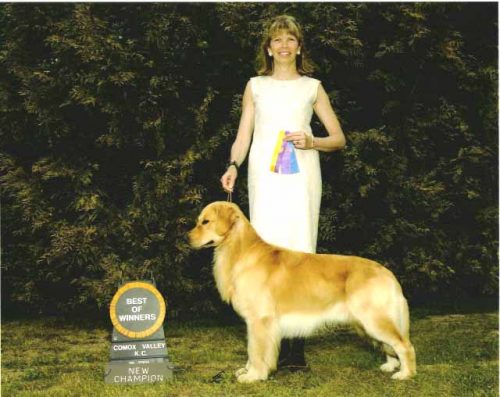 '
Introducing another CHAMPION here at Snobird Goldens.
Can. Ch. Snobird Arising Morning Star (Am) CD 'Jesse'
Jesse completed his American Novice A by getting High in class two of three legs at two Specialty events. The Western Regional GR Specialty in Spokane and the Inland Empire. He has his American CD and did this by completing three legs consecutively.. with scores of 184, 181.5 and 189. A huge accomplishment for a 2 year old. He was shown to his Canadian Ch. and completed his Am CD owner handled by Judy.
Jesse is from the Cruiser/Prey litter. (5/18/04)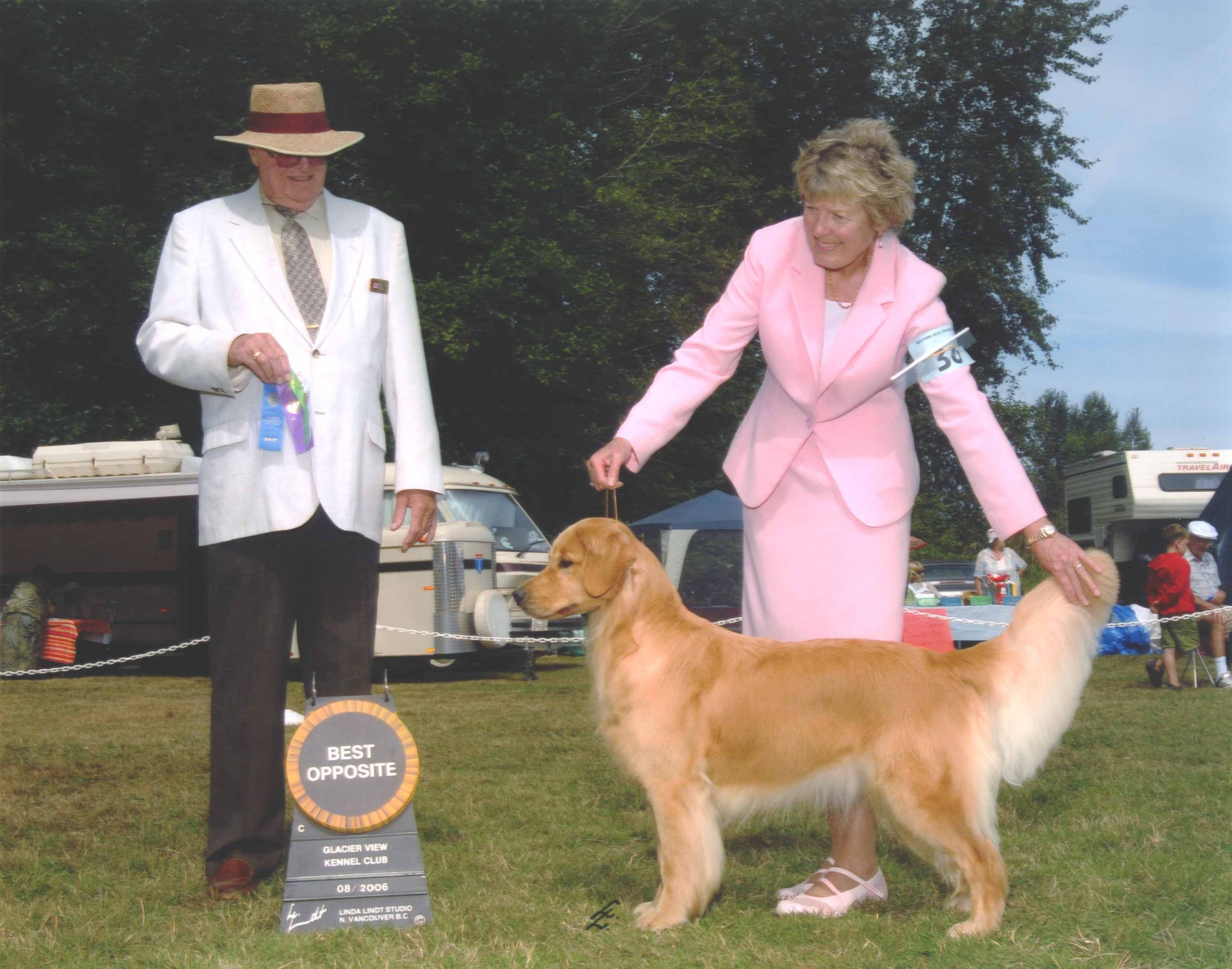 Roxy after winning her first points in Canada in Courtenay B.C. She won Best of Opposite over 2 Specials for 5 points under Judge Charles Francis.(Roxy passed away at 14 1/2 in 2018. She was a Prey daughter.)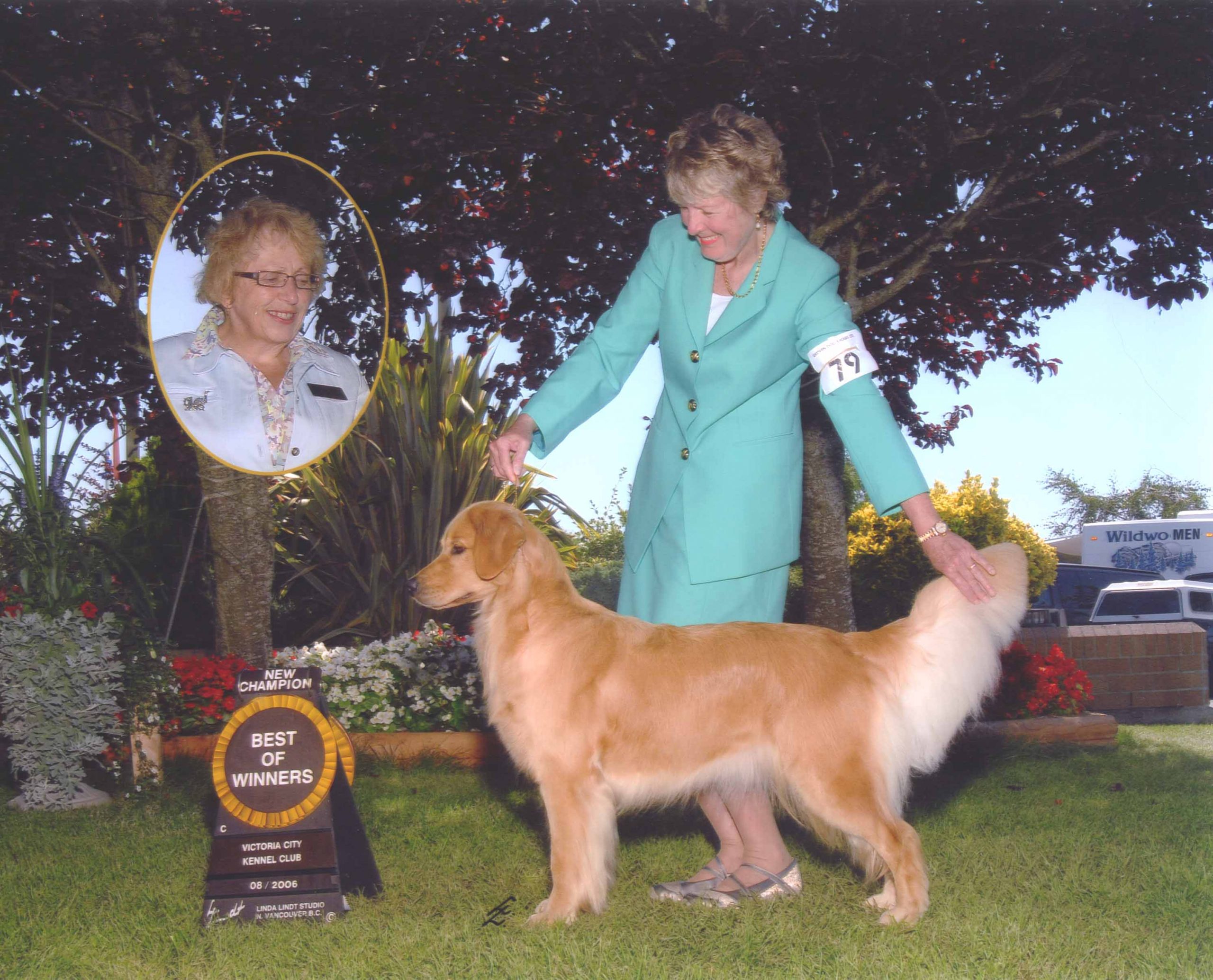 Roxy is our 4th Canadian Champion out of her Mom, Prey. Second from the Cruiser/Prey litter. Roxy finished the last day in Victoria by winning Bests of Winners for 4 points. So she is now Can. CH. Snobird's Apple of Mum's Eye. Now we start to pursue her American title. What a success the Vancouver Island show circuit turned out to be for us here at Snobird Goldens. Coming home with 2 Canadian champions was a dream come true for me.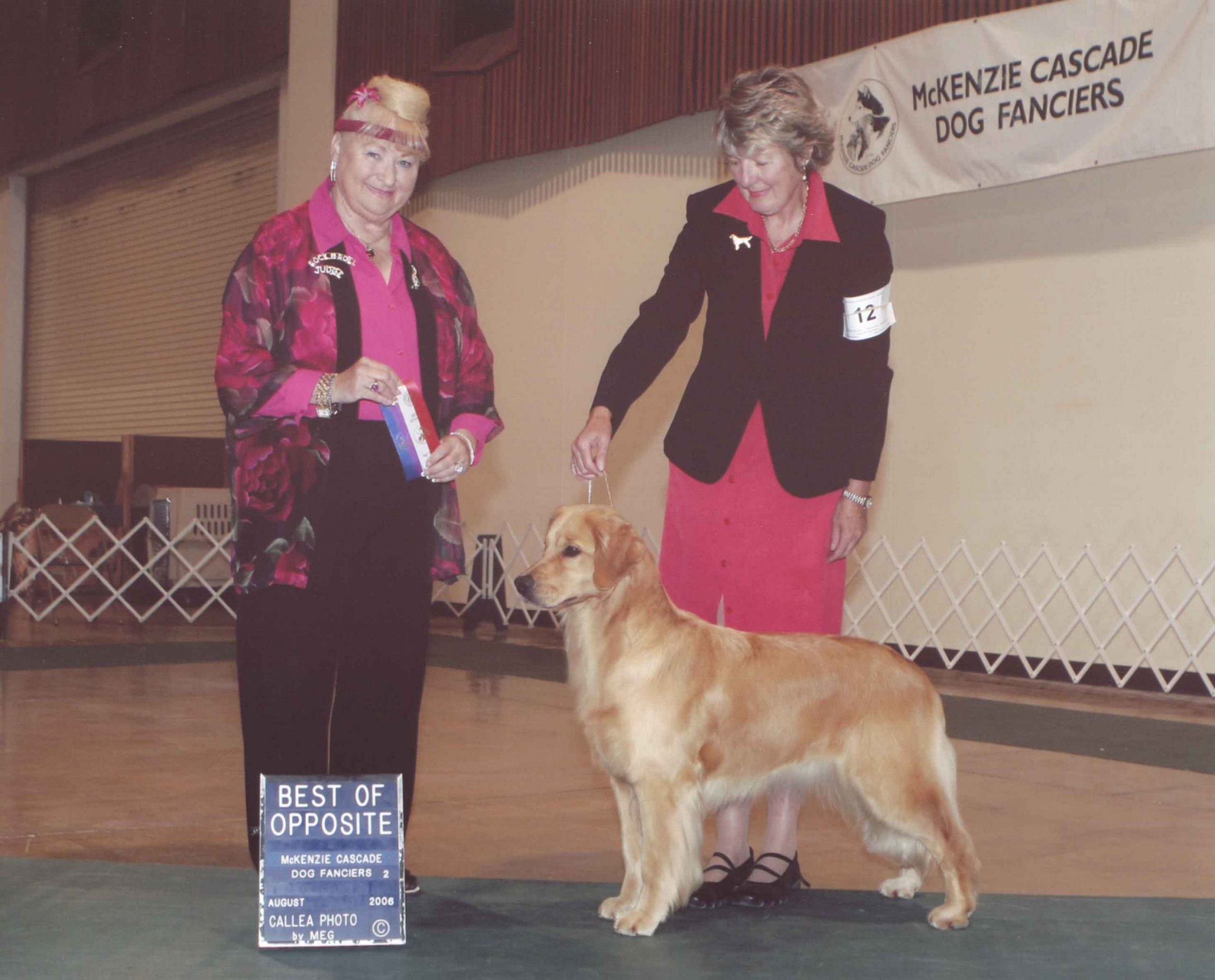 Am/Can Ch. Snobird's Apple of Mum's Eye 'Roxy'
Roxy won Best of Opposite 3 days out of 4 at the Eugene Oregon shows in Sept 2006.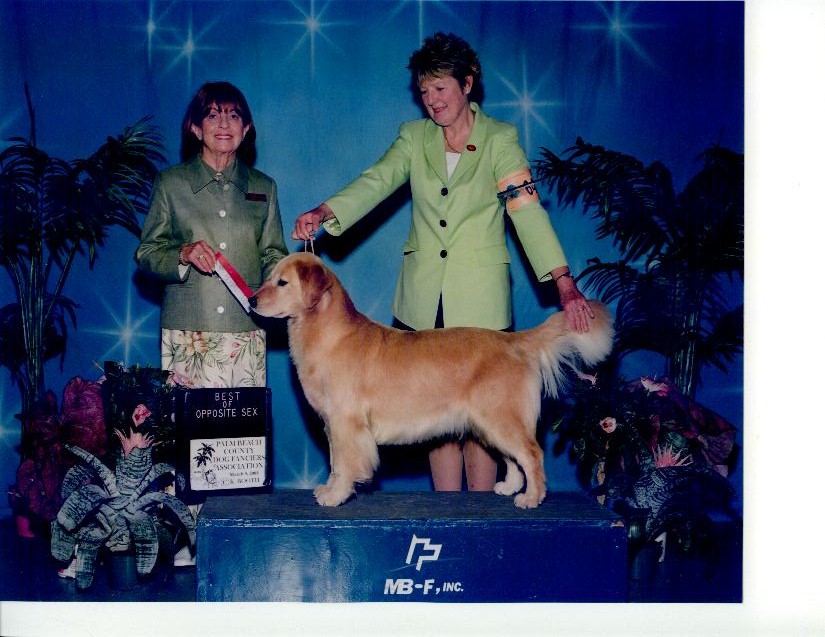 This is Abby Am/Can CH. Snobird's Abby Road. Abby and I recently got Best of Opposite in West Palm Beach Florida. Abby passed at 13 1/2.