Located In Ocklawaha, Florida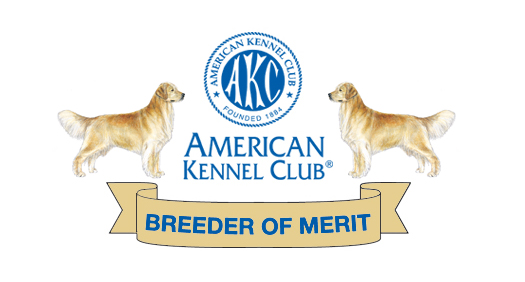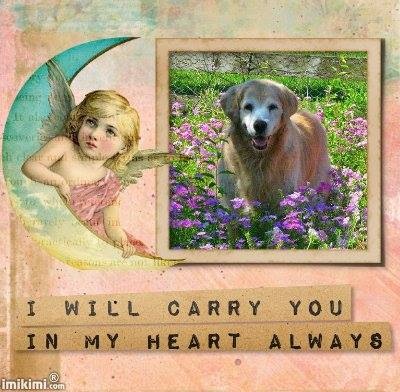 Oct 23, 1998- June 23, 2014
Run free dearest Prey. I will love you forever.
Prey was my foundation bitch and behind many puppies here at Snobird Goldens.She was a Mother, Grandmother, Great Grandmother and Great great Grandmother. We will miss you.
************************************************************************************
For current and updated info. videos and photos related to Snobird Goldens please go to the Snobird Facebook Page😊
🐾🐾🐾
I am excited to announce the breeding between Oscar x Breeze. Questionnaires are being accepted now . Once approved you will be added to my puppy list.Oscar is shown below.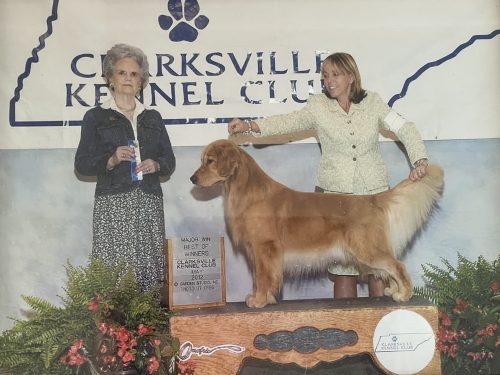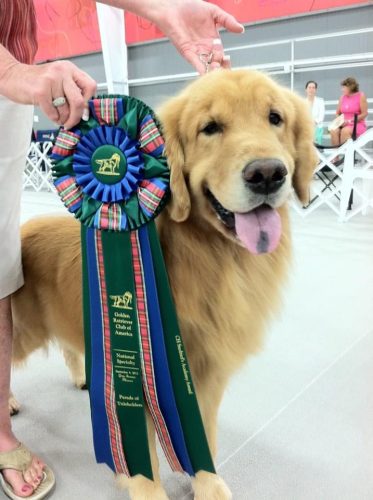 'Oscar' CH Snobird's Academy Award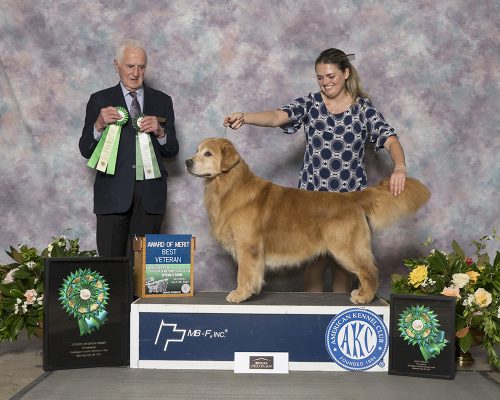 BVISS CH Goldruls Meat Me At The Gate JH CCA CGC BVSW
(Sire of Windy and Ambers puppies)

Mac has "Good" OFA hips, clear elbows, a cardiologist's heart clearance and an up to date eye clearance. Also Genetic testing for prcd-PRA status, PRA 1, PRA 2 and Ichthyosis (clear)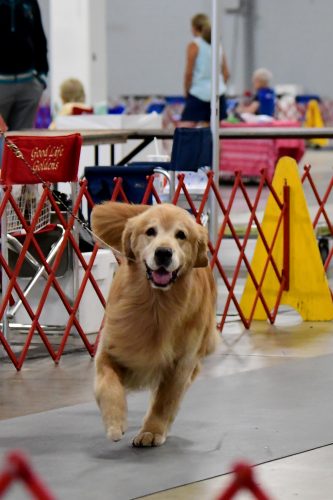 MAC
https://www.k9data.com/pedigree.asp?ID=647783
🐾🐾🐾🐾🐾🐾🐾🐾🐾🐾🐾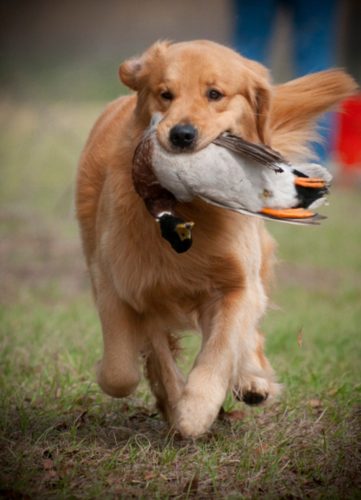 Edward is Windy's Dad.
Our LATEST CHAMPION!!!!!!!!
FELIX……….Shown by Linda Pitts.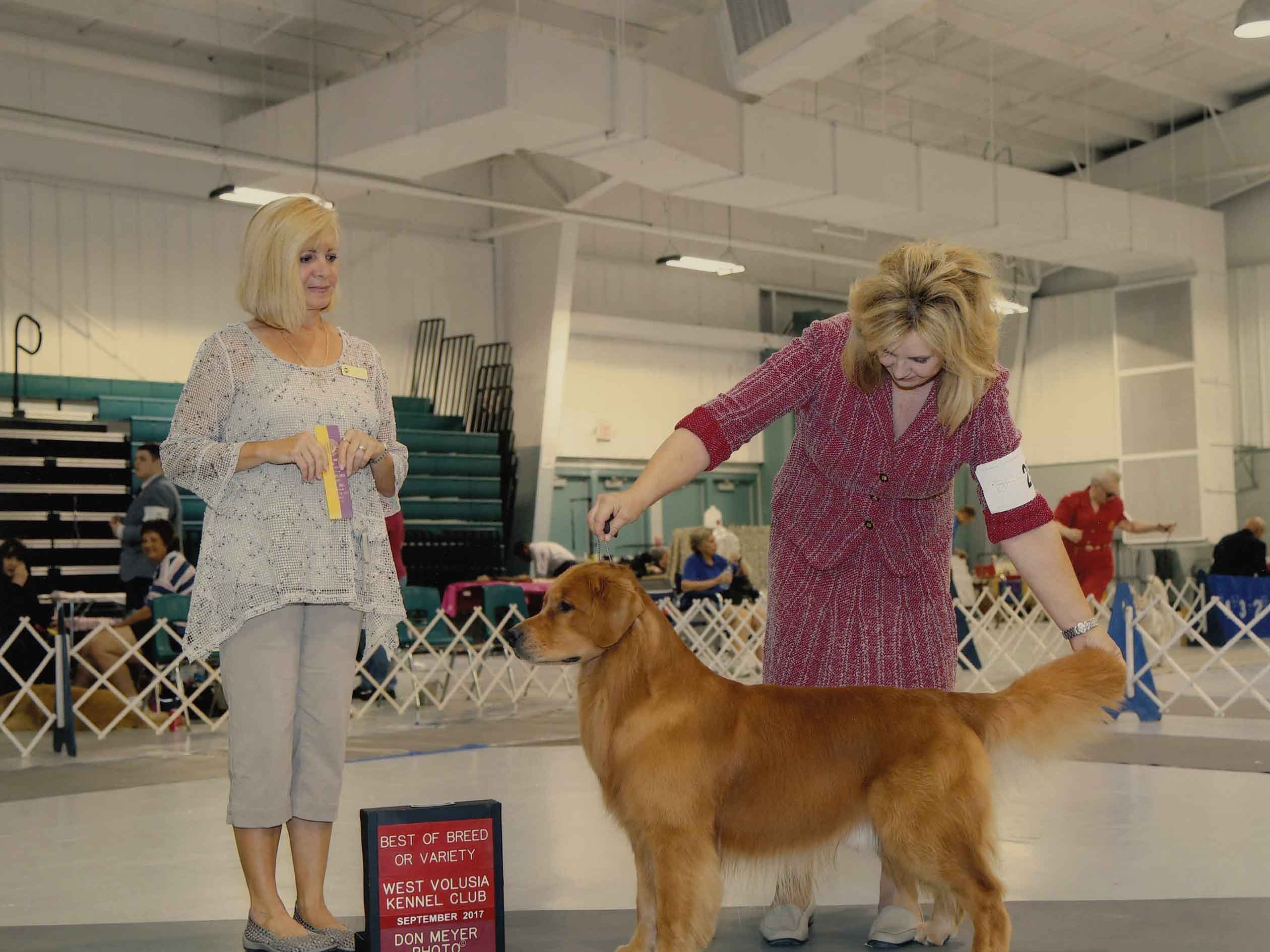 CH .Snobird's Yule Unger For More CGC BN RN CCA

(Finished with 3 majors and Best of Breed.  Felix has 4 majors for his Grand Championship and 21 pts)
Felix is available for stud service to approved bitches only. If interested please send pedigree and clearance information.
Felix has a solid top line, easy gait, converges, beautiful head piece with dark pigment, up beat personality.. well balanced and gets along with puppies, people and dogs… He has his CGC, BN, RN CCA and we are now
pursuing his CD (obedience titles. He finished his CH by going Best Of Breed in Tallahassee, Florida. Following that he took SELECT DOG twice over 3 other Male Specials for Grand Champion points.
In Elkton he was Best of OPP and Best Of Breed adding 1 and 5 pts towards his Grand Championship. He now has all 3 Majors needed for his Grand and 21 points. 4 more to go.
******************************************************
Another New Champion!!
SUMMER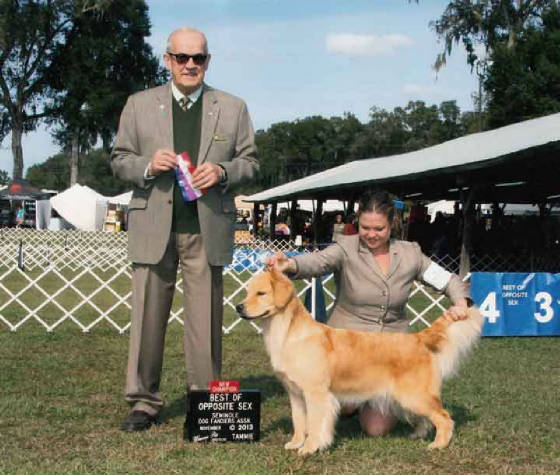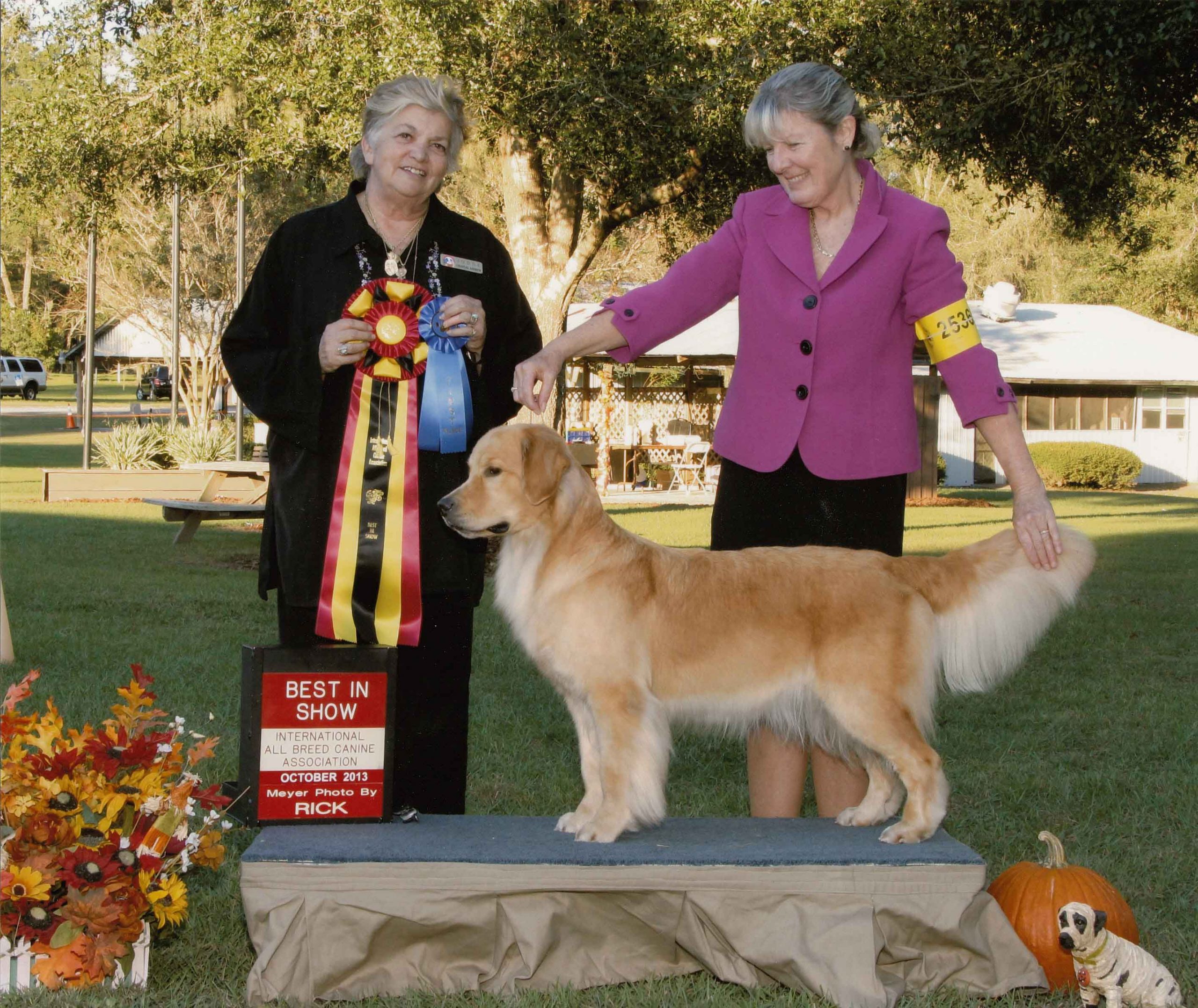 BIS (International) AM/ INT CH. Ridgeview 'N Snobird Dreams Take Flight
CH Ridgeview 'N Snobird Dreams Take Flight. Miss Summer finished today (Nov 14, 2013) In Ocala, Fl. Shown by Rindi Gaudet!
Summer was Best Puppy when she was younger. Also won a Puppy group 2.
At international shows she finished her International championship in 3 shows with two Best of Breeds, 2 Group 1st and also went on to a Best In Show. ALL owner handled.
***************************************************************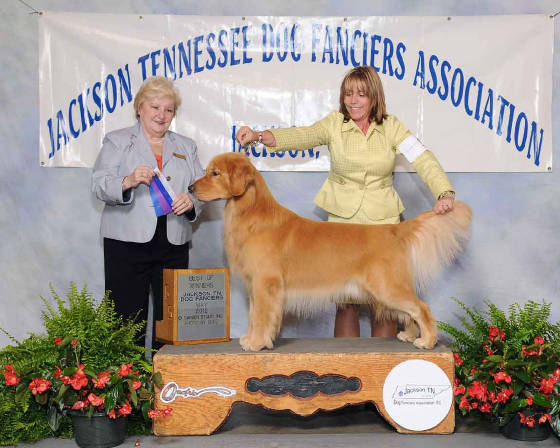 CH. Snobird's Academy Award
( GCH. Quailwood Mountain Odessey x CH. Snobird's Abby Road)
Oscar (Shown above) finished his Championship with 3 major wins. His first at 16 months breeder/owner/handled.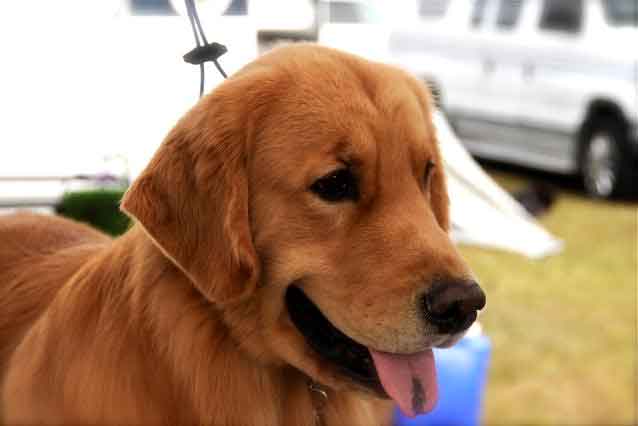 Oscar left us fir Rainbow Bridge 5/25/21 at 12 years 8 months old. He died of Hemangio. Frozen semen is being used for any breedings.

Oscar had Excellent OFA hips, nomal elbows and a Board certified Heart clearance. Oscar has only frozen semen available.
Snobird's Goldens occasionally has a well planned litter and I had the distinction of receiving the Breeder of Merit Award from AKC.. I have Goldens involved in Obedience and have bred Goldens titled in Scent work, Hunt tests, therapy work and conformation.  I have 2 maybe 3 well planned litters per year. We live on 3 acres in the country and my dogs and puppies are not raised inside a kennel. They are inside our home. The pups never go into a kennel… they are part of our lives and are raised in our puppy room.There they can see us, hear us and feel like part of our family. I am a member of the Mid Florida Golden Retriever Club, Golden Retriever Club of America and also the Marion Alachua Kennel Club. I support the Breed Standard by only breeding to produce a Golden which adheres to the standard for the breed. A wonderful temperament is the hallmark of our Breed and I have been told I breed 'Lap Dogs'… the typical Golden temperament. I also have clearances going back many years  in the Puppies Pedigree for Hips, Elbows, Heart and an Annual Eye clearance.
 I have a spay/neuter contract to protect the puppies and also a Snobird Facebook page so families have a way of keeping in touch with the other Snobird owners in WA. AK. CA. LA. FL. OR  and Canada….. I have Snobird dogs who have Obedience titles, Rally and others than are beginning to work in Field and Conformation. Snobird Goldens has produced Canadian champions and American champions and am very proud of everyone's accomplishments.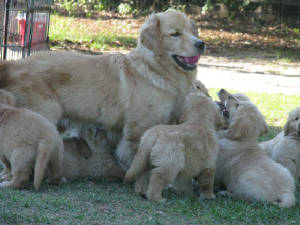 Breeding Pet and Show puppies with wonderful temperaments!
Occasionally I will groom well behaved Goldens. Contact me for rates.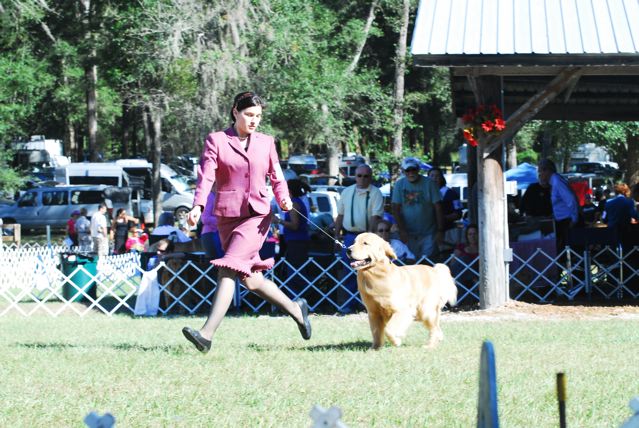 I take pride in providing excellent communication regarding inquiries so please click on the link below with any questions.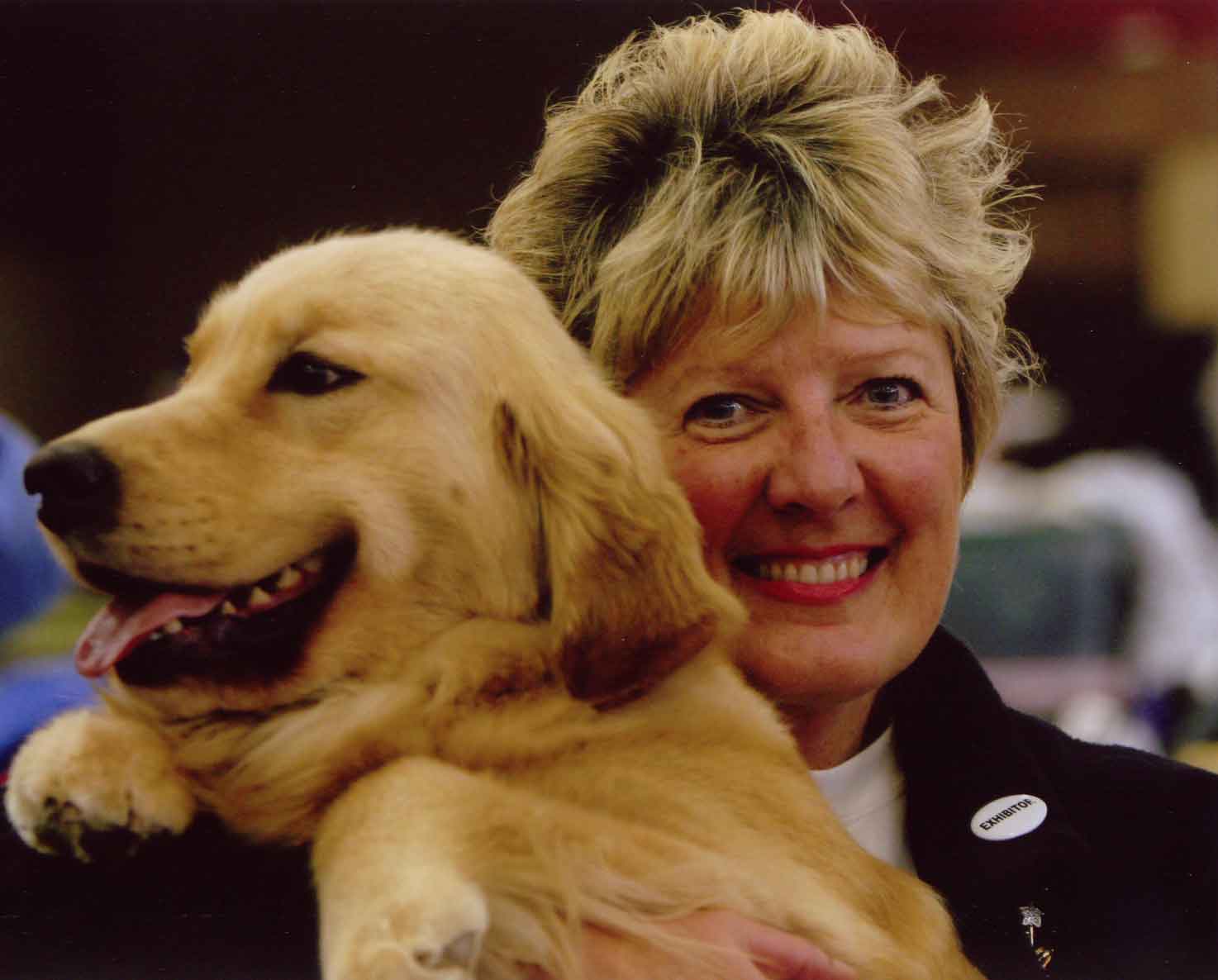 Have you HUGGED a Golden today!!
I have and they are an ARMFUL of LOVE!!!!!!!!!!!!
This is Abby with her breeder Debbie.